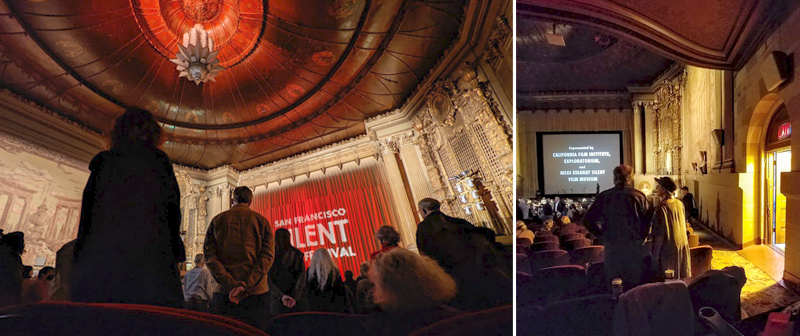 The Castro Theatre, San Francisco's Last Remaining Movie Palace
Designed by renowned architect Timothy Pflueger in 1922, the 1400+ seat theater's exterior was landmarked in 1976. For decades San Francisco's The Castro Theatre has hosted the San Francisco International Film Festival, the San Francisco Silent Film Society, Frameline, Noir City, and numerous international film festivals.
The Castro's future as a movie theater is threatened by a controversial redesign proposed in 2022 by Another Planet Entertainment ("APE"), a Bay Area concert production company, that would remove or modify the orchestra's raked seating to prioritize the theater's use as a concert venue. APE contends the theater's current 1400 seats are not economically viable for their purposes.
"For 18 years I filled that theater, all 1,400 seats in the theater, on Friday and Saturday nights. The success of the festival at the Castro Theatre is known nationally and internationally. And that is a perfectly viable motion picture theater.... The Nasser family is being very disingenuous when they said that they cannot possibly show movies there. I have done it successfully for 18 years, packing that theater with lines around the block."
—Eddie Muller, NOIR CITY producer and host • Castro Theatre gets landmark recommendation from City Hall in big setback for Another Planet Entertainment, Joe Kukura, SFist.com - February 1, 2023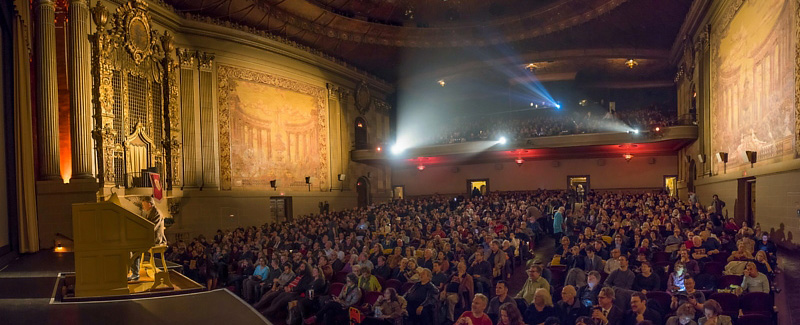 Landmarking the Castro Theatre's interior
San Francisco District 8 Supervisor Rafael Mandelman submitted an interior landmark designation to protect the character-defining features of the the Castro Theatre's interior. On February 1, 2023, at a lengthy meeting with more than 100 people showing up for public comment, the SF Historic Preservation Commission unanimously endorsed the interior landmarking, but declined to clarify its position on retaining the fixed seating.
On May 8 at the Land Use and Transportation Committee hearing, Supervisor Aaron Peskin joined Supervisor Dean Preston to pass an amendment to the landmark designation to include "fixed theatrical seating configured in a movie-palace style." Castro district supervisor Mandelman opposed the amendment, and suggested the possibility APE could ignore a forthcoming decision from the Board of Supervisors: "Ultimately even if made, it is not clear the amendment would prevent the city approving or APE not moving forward with their plans for the theater."
JUNE 15, 2023 The Historic Preservation Commission approved a Certificate of Appropriateness with a 5-0 vote. At this joint meeting the Planning Commission approved by a 4-2 vote a planning code change that would allow the removal of the 800 seats on the auditorium floor and the addition of bars on the balcony level.
Conditions proposed by the Castro Theatre Conservancy were largely rejected at the hearing by APE's vice president, Dan Serot. From Hoodline: "Conditions included increasing the number of days the theatre will be active to 250, a minimum of 50 days devoted to LGBTQ+ programming, limits on private parties, and an oversight board. Instead, APE intends to host 175 events per year, with no less than 25% of its programming being LGBTQ+ focused, and the commissions approved an agreement that APE would meet once a year with the cultural district." The commissions' decisions can be appealed to the Board of Supervisors.
JUNE 6, 2023 In a brief hearing that disallowed public comment, The Board of Supervisors voted 6-4 to overrule the amendment to preserve the theater's fixed seating and raked floor with supervisors Mandelman, Safai, Stefani, Dorsey and Melgar voting to remove that protection. Supervisors Peskin, Preston, Chan and Walton voted to preserve it.
Per SF Standard: "multiple steps need to be addressed before Another Planet has a clear runway.... Not only is an appropriateness certificate required to make renovations, conditional use authorizations for nighttime entertainment and a bar are, too—all of which could be appealed. With the forecast clear for more meetings, the show's not over yet."
The Board of Supervisors President, Aaron Peskin, called the June 6 vote "nothing short of tragic" — noting that APE cannot succeed without support from the community. Supervisor Preston commented that it made little sense to designate the theater's interior a landmark but exclude "clearly key features."
How unfortunate that Mandelman argued that the preservationists were working 'solely to kill the APE project'. He clearly is not paying attention as the "preservationists" would like nothing more than for APE to form a collaboration where they do what they do best—presenting live shows—and work with film festivals and other presenters to offer movies in a proper movie theater setting throughout the year on many of the 25 nights a month APE otherwise would leave the theater dark, affecting the neighborhood businesses who depend on consistent programming at the Castro.
—Gary Meyer, festival director/programmer and publisher - letter to 48Hills.org
Critical of Another Planet Entertainment's business model and spin
From Hoodline, May 16, 2023: Public records [viewable at the City & County of San Francisco Ethics Commission site] indicate APE has spent approximately $91,985 since January 2022 lobbying public officials including Mayor London Breed, Supervisor Mandelman, and planning department staff through Alex Tourk's Ground Floor Public Affairs.
APRIL 17, 2023 At the Land Use and Transportation Committee hearing Supervisor Preston pointed out that as a former owner of a historic music venue, he views music venues as "a core part of our arts culture in San Francisco." He stated that APE can renovate and open the theater for regular programming including movies, comedy performances, live music with the fixed seating amendment proposed. He said, "I don't take at face value any suggestions that this kind of use can't be done, or is incompatible with preserving the fixed seating and the raked floor, and the historic features of the interior." He expressed his concern that APE is "lobbying so hard against this," and not working with the community.
Supervisor Aaron Peskin pointed out APE's non-compliance in its lease obligation to perform renovations and improvements promised for the Bill Graham Civic Auditorium 13 years ago — stating that of more than $10 million promised, $565,475 has been spent. APE has contested that figure.
Terrance Alan of the Castro Merchants Association observed, "APE should be spending less money on a PR campaign around the Castro Theatre and more energy fulfilling its existing promises....These latest revelations should lead to heightened scrutiny of APE's capability to effectively manage the Castro Theatre."
>> View the April 17 hearing
APRIL 3, 2023 At the Land Use and Transportation Committee meeting Supervisor Preston expressed his frustration with APE's lobbying campaign and business model's appropriateness for the Castro Theatre.
>> View the April 3 hearing
We've seen relative to Another Planet and similarly situated operators that this is not a business model that one can expect to operate five or six or seven nights a week. It's probably one or two times a week —which means that the venue is going to be dark about half the year.... I don't see any reason why we can't have our cake and eat it too and run the joint as a film operation with rich LGBTQ programming that 180 days.... APE walked into this thing like the 300lb gorilla, and that's why they haven't crossed the finish line yet. They hired everybody who could be hired... It has not been the path for success.... I don't know how much it costs to run a movie theater, but I don't think it's that expensive. And I don't think it has to be leased out to parties for $6,000-$10,000 a day. I think it can be done for a lot less than that. And then the merchants can be happy, and my former colleague, Tom Ammiano, I want to do right by, and do right by the community and the edifice.
—SF Supervisor Aaron Peskin, Land Use and Transportation Committee hearing April 3, 2023
Questions continue to be raised on how much of the month the theater will sit dark, how expensive the venue may become both for presenters and attendees, and what benefit and impact its change of use will have on neighborhood businesses and the LGBTQ community.
In San Francisco extensive renovation of the Golden Gate Theater—a former moviehouse opened in 1922 three months before the Castro Theatre—retained its raked auditorium seating to present both stage and top-name music acts year-round. In Oakland architect Timothy Pflueger's Paramount Theatre presents both films, concerts and numerous civic events with its fixed orchestra seating. In contrast, nearby APE's Fox Theater no longer screens films, following renovation completed in 2009 that replaced the orchestra's raked seating with tiers, as shown here.
The Castro Theatre Conservancy prepared to purchase or lease the Castro Theatre
APRIL 27, 2023 The Castro Theatre Conservancy released a proposal to fully activate the theatre within 60 days of purchasing or leasing the theatre, promising to keep the theater active 365 days of the year, "a far better alternative to the mostly unused theatre that APE has proposed." >>Read more
While Another Planet Entertainment insists that they must remove the orchestra floor seating of the Castro, we know the theatre can accommodate diverse and varied programming — and real community benefits — without demolishing its interior.... The Conservancy engaged its working group of experienced professionals in the performing arts and fundraising to develop the initial three-year plan that would lead to a capital campaign of $20-$40 million for capital improvements.
—The Castro Theatre Conservancy
FEBRUARY 1, 2023 The SF Historic Preservation Commission voted 6-0 in favor of a recommendation for interior landmark protection for the Castro's seats. At the meeting Castro Merchants Association board member Terry Beswick commented that Another Planet Entertainment's plans would "basically gut the interior of the Castro Theatre" to accommodate in-house full bars, and "neighboring businesses will continue to suffer due to the many dark days APE plans for the theater."
JANUARY 26, 2023 Friends of the Castro Theatre Coalition held a town hall at the Holy Redeemer Roman Catholic Church in the Castro, ahead of two public meetings on interior landmarking. The meeting "came, coincidentally, just after a letter from the Nasser family and Another Planet Entertainment was released proposing interest that a member of another coalition enter into a sublease agreement with them."
—Emotions Run High at Castro Theatre Town Hall, John Ferrannini, Bay Area Reporter
DECEMBER 7, 2022 In a controversial move San Francisco's Historic Preservation Commission voted to delay a decision on the protective landmark measure until February 1, 2023, despite unanimous community objections voiced at the hearing.
AUGUST 22, 2022 The San Francisco Small Business Commission declined a measure to support the redesign proposed by Another Planet Entertainment
---