The Friends of 1800 came together in the quest to save San Francisco's Carmel Fallon Building. We've compiled a number of articles and images to provide a historical perspective on the building and its role in San Francisco history.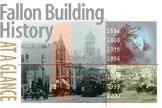 Start with Fallon Building History for an overview of San Francisco's Carmel Fallon Building with links to articles by Tim Kelley, Vicky Graham, and John Wullbrandt. Retrace the Fallon Building's winding road to restoration chronicled in the San Francisco press in the Fallon Building News Archives.

View our in-site table of officially designated San Francisco Landmarks, as well as San Francisco's Historic Districts and Structures of Merit.



Apparently ignoring a Stop Work Order from the SF Building Inspection Dept. Sacred Heart was stripped of a number of its historical elements. ››MORE.




The Friends of 1800 Board voted unanimously to support landmark designation for 557 Ashbury Street. ››MORE.



Once threatened with demolition, the Eastlake Stick Victorian at 4038 17th St. was sold and is being restored. ››MORE.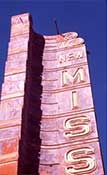 2013: The San Francisco Planning Commission approved a $10 million renovation of the New Mission Theater, as well plans for construction of a 114-unit condo development in the adjacent former Giant Value space. Theater plans include a 348-seat theater and four smaller screening rooms, as well as a full restaurant and bar. Work is projected to start as early as Summer of 2013. ››MORE.
Read more about San Francisco legacy movie houses with updated information about theaters that have been closed or adaptively reused. See also our updated tabular listings of closed San Francisco movie houses with links for additional information on Cinema Treasures.



The Reid Brothers' historic Harding Theater, the only remaining single screen theater in the Western Addition, has survived three attempts to gain City approval for full or partial demolition plans related to condominium development and is listed for sale. ››MORE.



The historic buildings that until recently housed U.C. Extension face demolition in a development proposed for this six-acre site. ››MORE.