JANUARY 2013
Alamo Drafthouse Cinema has announced plans to reopen the historic New Mission Theater as the Alamo Drafthouse New Mission during the fourth quarter of 2013. Per Alamo's website, "...each of the auditoriums will be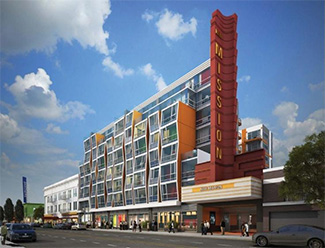 equipped with state of the art digital projection as well as excellent screen size to room ratio and amazing sound. In addition to the superior AV equipment, the layout of each screening room will eliminate the traditional front row, ensuring every seat in the house allows for a great viewing experience. The theaters at Alamo Drafthouse New Mission will also be equipped for 3D and 35mm projection." SF Gate reported on January10 that the San Francisco Planning Commission gave final approval to the $10 million renovation of the 1916 theater at 2554 Mission St. Also approved was construction of a 114-unit condominium development next door— to become the second tallest building in the Mission District at 85 feet. Theater plans include a 348-seat theater and four smaller screening rooms, as well as a full restaurant and bar.
Work is projected to start as early as Summer of 2013. According to Philip Lesser quoted here on Mission Local, landlord and business consultant, "This is far and away the most impactful project that the Mission has seen in decades."
FEBRUARY 2012
On February 15, 2012, Texas-based Alamo Drafthouse met with San Francisco's Architectural Planning Committee to present their proposal to convert San Franciso's landmark New Mission Theater into a five-screen multiplex entertainment complex that includes a bar replacing the first floor's projection booth. Alamo Drafthouse is in contract with Gus Murad and Associates to purchase the theater. Both the New Mission and the adjacent Giant Value store went up for sale in 2011. Alamo's founder, Tim League, describes the plan envisioned in the Alamo blog on Thurssday, February 16:
"Even though our plan is to subdivide the balconies into small boutique theaters, we will be doing it in such a way as to pres rve nearly all of the amazing architectural details of the space. We would still preserve the massive downstairs screen and transform that space into a potential premiere venue with state of the art sound and picture. We have been working hand-in-hand with the both historic and neighborhood groups to make sure that our restoration plans meet with their approval. The great news is that the theater interior is largely in good shape. A large percentage of the interior details have been preserved and even most of the light fixtures are intact."
The pictures below show the building as it appeared on the day of the Landmarks Board hearing on October 11, 2006. The graffiti on display was the result of a rave event held in April 2006. To view photos from 2001 during the Evermax Furniture Occupation, go here.
»CLICK TO ENLARGE. The keyboard arrow keys < > allow navigatiton. Press ESC to exit.

























*Photos by Ted Whipple and Ed Bedard.
EXTERNAL LINKS
New Mission Theater gets the thumbs up from the City Planning Commission — Vic Wong, MissionMission.org, 01-11-2013
New "Gangnam Style, Swagger Style" Alamo Drafthouse and Condo Project Approved — Kevin Montgomery, Uptown Alamanc, 01-11-2013
New Mission Theater Project Could Mean Big Changes For Mission Street — Rigoberto Hernandez, Mission Local, 01-10-2013
New Mission Theater Renovation OKd — John Wildermuth, SF Gate, 01-10-2013
Comeback Hopes for the New Mission Theater. — Therese Poletti, Wall St. Journal, 09-05-2012
New Mission Theater Would Regain Glory under Plan — Ellen Huet, SF Gate, 02-18-2012
New Mission Theater May Become A San Francisco Alamo Drafthouse (Unless An Obscure Law Stops It) — Aaron Sankin, Huffington Post , 02-17-2012
Alamo Drafthouse Coming to San Francisco's New Mission Theater — Alex Billington, First Showing Net
New Mission Theater Plan: 5 Screens, 900 Seats — Mission Local, 02-15-2012
New Mission Theater Rehab Inches Forward, With Suds — Philip Ferrato, SF Curbed, 02-15-2012
New Life, Food, And Beer For The New Mission Theater As Proposed — SocketSite, 02-14-2012
New Mission Theater Possibly To Become Five-Screen Alamo Drafthouse Cinema — Jay Barmann, SFist, 02-14-2012
Five-screen movie theater coming to Mission District? — J.K. Dineen, San Francisco Business Times, 02-14-2012
2011
Buildings for Sale — John Wildermuth, SF Chronicle, 01-27-2011
Owner of Medjool and Roof Top Bar Puts Mission Real Estate Up for Sale — Heather Smith, Mission Local, 01-26-2011
2010
New Debate Surrounds New Mission Theater — Rebecca Bowe, SF Bay Guardian, 07-29-2010
Restoration of Controversial Theater Put on Hold — NBC Bay Area, 3-18-2010
2009
Accidental Gift: New Mission Theater Condos Can Be Taller — Andy J. Wang, Curbed SF, 02-04-2009
Trial by Blog: Chasing Gus Murad, Habitual Lucky Guy Andy J. Wang— Curbed SF, 03-12-2009
2006
New Mission To Have New Use — SF Examiner, 10-14-2006
Big Screen Revival — Patrick Hoge, SF Chronicle, 04-23-2006